We Got Married
April 23, 2016 / Centennial Station / High Point, north Carolina
Our Story
(Eventual) love on the high seas
We met on the first Jonathan Coulton cruise, after we separately signed up for the same excursion to climb Dunn's River Falls outside Ocho Rios, Jamaica. After finding ourselves on a bus full of strangers, we climbed the falls together and stayed in touch for a year before becoming a couple. On April 23, 2016, we got married at Centennial Station in High Point, North Carolina. Then we honeymooned in Iceland.
The dress: handmade by Holly Frey.
The guestbook: postcards!
The favors: chocolates and bookmarks (plus the books from the centerpieces, which we invited our guests to take home with them).
The cake "topper": Willow and Wilson figures from "Don't Starve," with bases by Patrick and a bouquet by Tracy.
Attendant gifts: "Marrying Mr. Darcy" with a custom card for our wedding from their "Emma" Kickstarter expansion.
The centerpieces: hardcover books topped with tulle flowers made by Tracy. The books came from the Friends of the BPL book sale and our own shelves, with a few last-minute additions from a remainder shelf.
Spare fabric from the dress used to protect the real dress while putting it on.
Tracy made the men's boutonnieres.
Tracy made the bouquets, using costume jewelry (her own and her grandmother's), vintage-look buttons, and a pearl necklace given to her by her other grandmother.
Wedding Day Details
Special thanks to all the vendors who helped make our day so awesome:
Thanks as well to the wonderful friends and family who were part of our day:
Bride's Best Man: Matthew S. Wilson
Bridesmaid: Amy-Elizabeth Manlapas
Groom's Best Men: Michael Fitzgerald and Luke D. Jacobs
Officiant: The Reverend Laura Randall
The Bride's Dress: Holly Frey
Readers: Brian Anderson and Lauren Vogelbaum
Brewmaster: Erik Lars Myers
Lovely Heroine label art: Graham Sternberg
Wedding-day Tank: Jim Brooks
The Beer
The Lovely Heroine, a chocolate porter by Mystery Brewing
We went to Hillsborough, N.C., in March to brew a beer that we would serve at our wedding. Here are some pictures of the finished product and the beer in progress!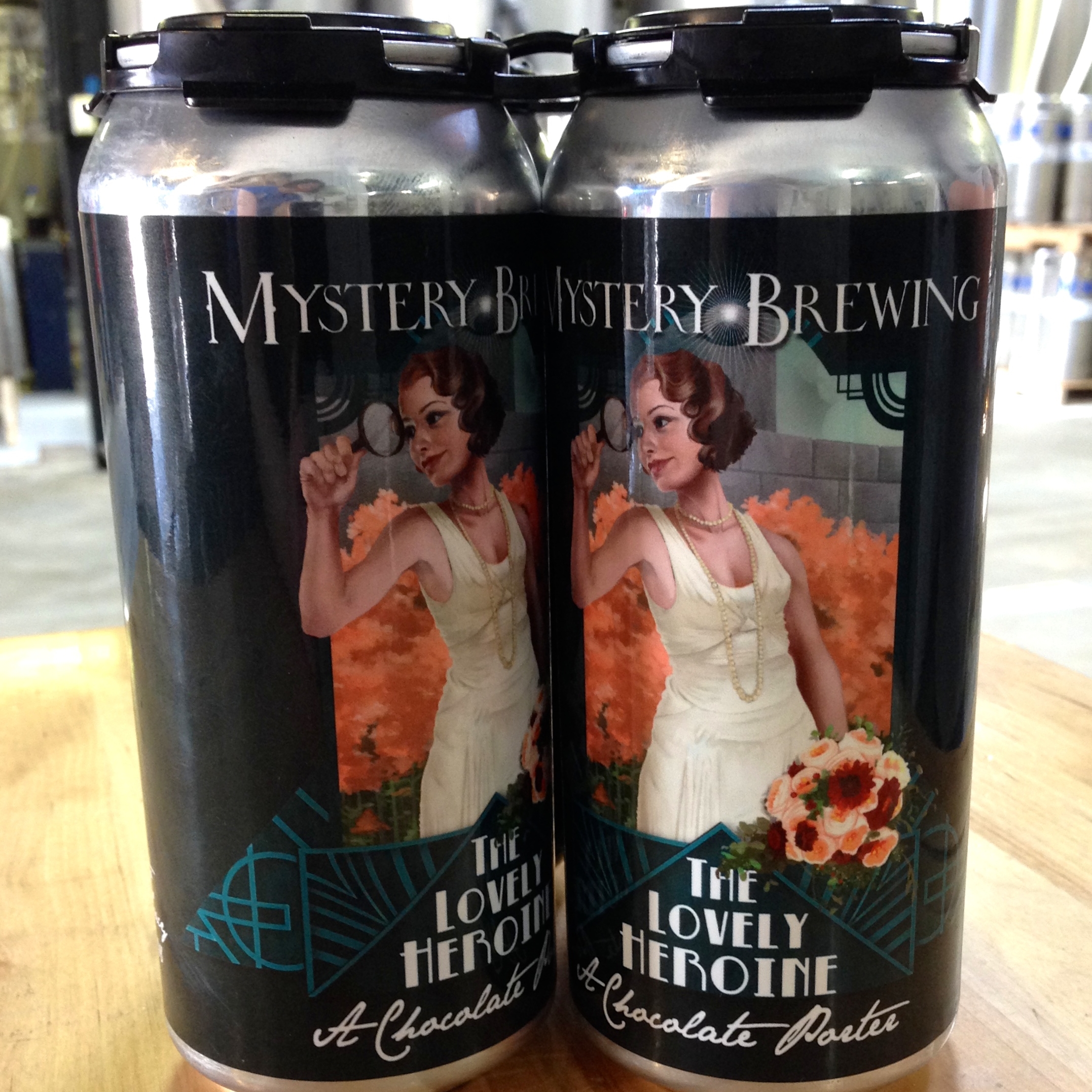 Grain going through the mill
Cleaning out the spent grain
The spent grain is saved for cows at a local farm.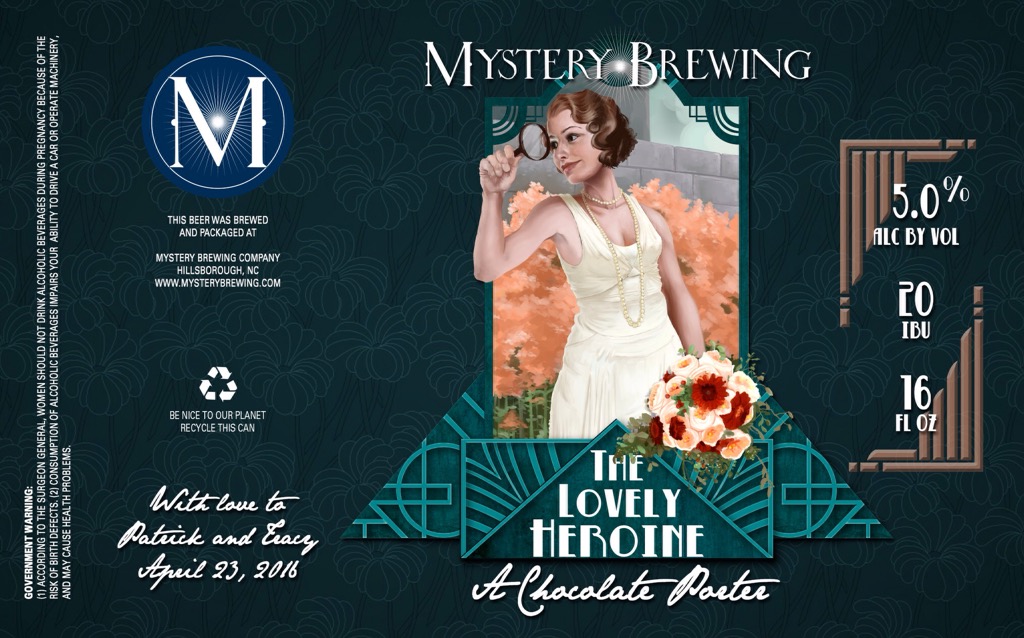 We toast with it at the reception! Photo by Leah & Mark and Co.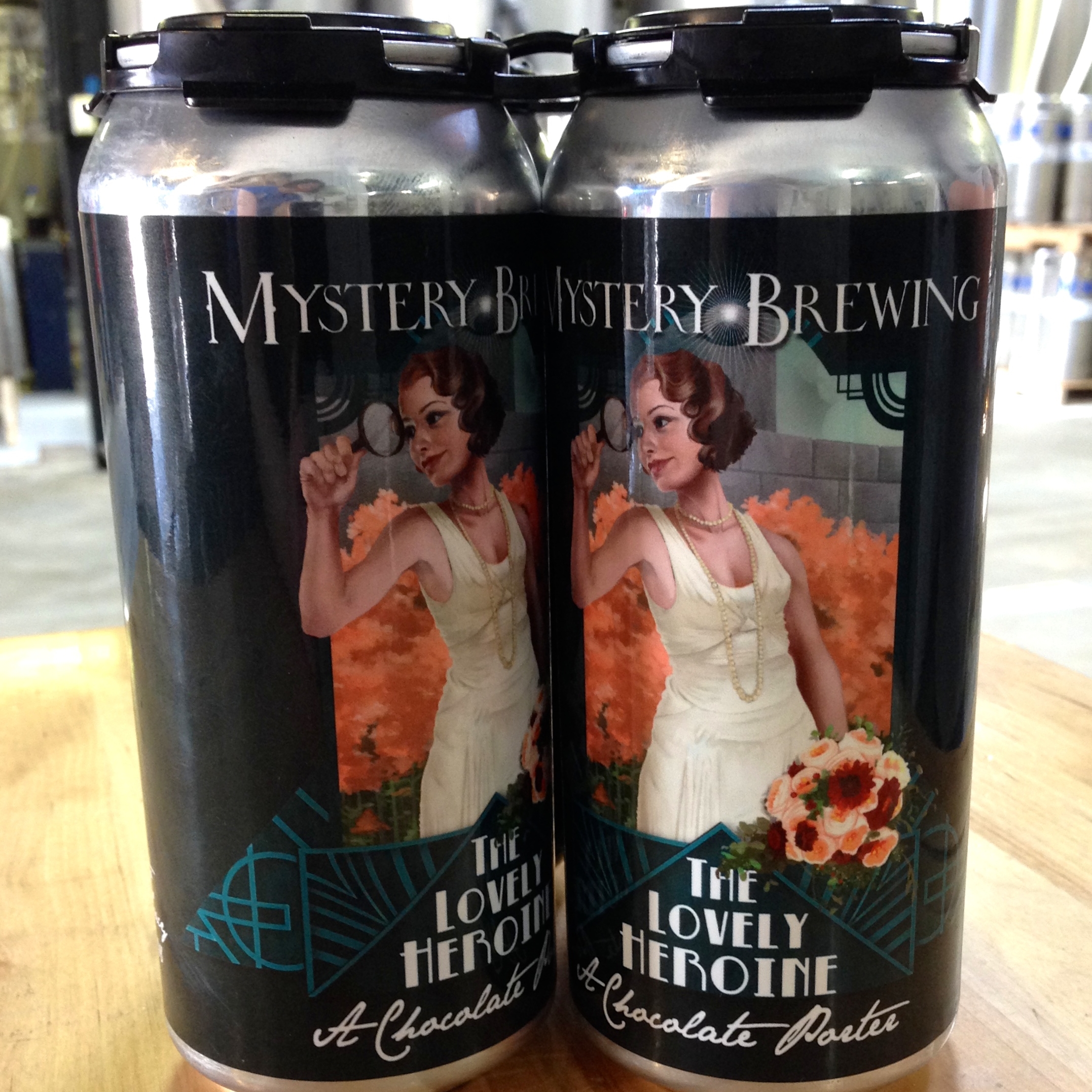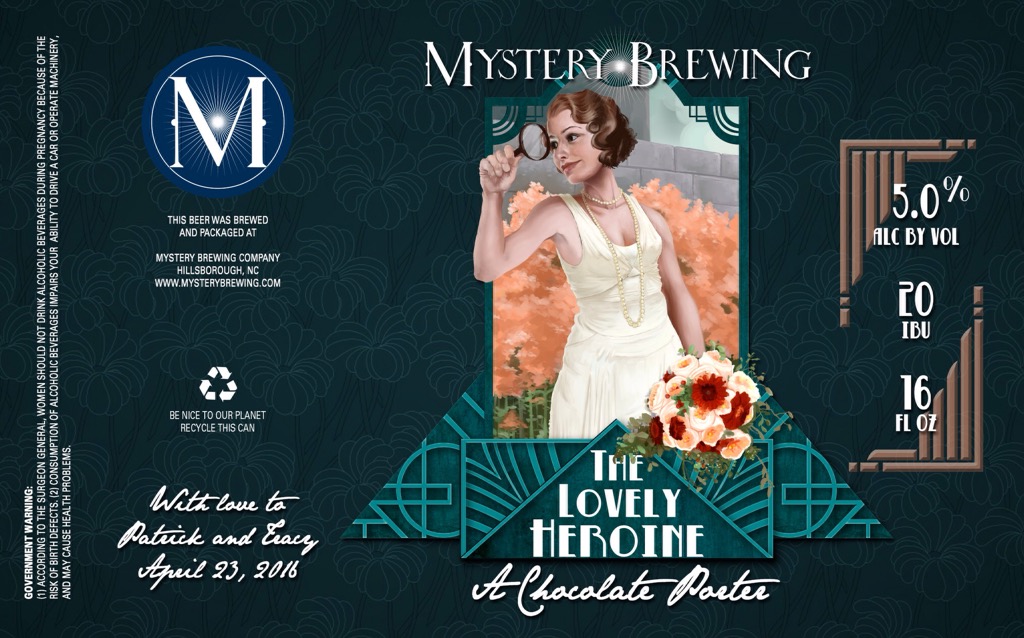 Dating & Engagement Pictures
By a range of cruise ship photographers unless otherwise noted
Tracy's Honeymoon Highlights
We're going to add a lot more detail about what we did in Iceland, but for now, here are some of Tracy's highlights of Iceland's natural world. It's basically spoilers for a more complete travelogue to come.
As East Coasters, we don't often get to see the sun set over the ocean. This was taken in Reykjavik on the one night we made it a point to see the (very late by our standards) sunset.
On Patrick's wish list: to see a crack in the earth, caused by the widening gap between the spread of tectonic plates in Þingvellir. This wasn't The Crack ... but it was a crack caused by the same phenomenon.
I took a lot of pictures of mountains (or volcanoes?) often without knowing which mountains (or volcanoes?) they were.
We stopped in Geysir, where the water coming from the ground is hot enough that the signs caution that the nearest hospital is 62 kilometers away.
In spite of signs in multiple languages warning people not to throw trash in the geothermal pools, there is a lot of change in most of the geothermal pools at Geysir.
Gulfoss waterfall, abutted with frozen spray.
As we drove toward Gulfoss, we didn't realize that both forks of the road lead to the waterfall. We thought we'd taken the wrong one ... then were presented with basically this view.
The view AWAY from Gulfoss is just as pretty.
A lot of rivers in Iceland have this turtle-shaped rock in the middle.
A lot of my pictures look far more desolate than it really felt. This was, however, the day with the worst weather.
This raven's wings were so loud I thought it was a runner's shoes hitting gravel. Also: It's snowing.
Now we're at the crack in the earth at Þingvellir. We're about to get rained on.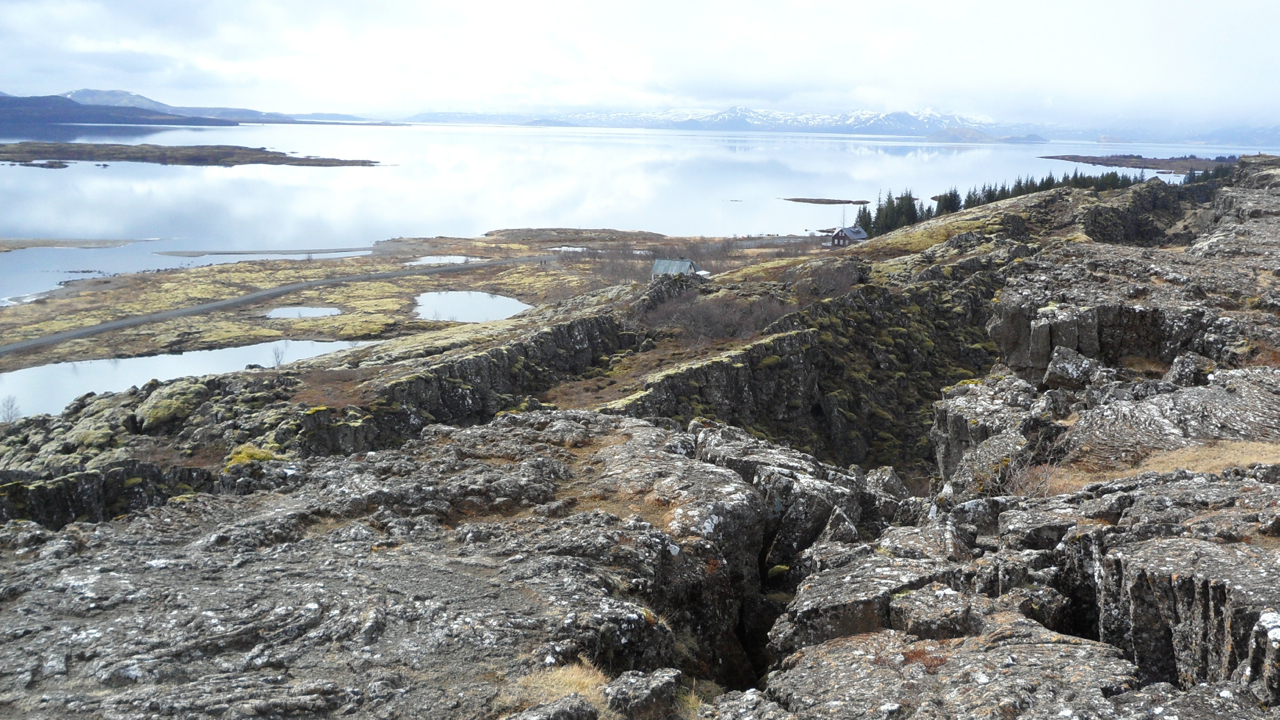 More tectonic crack action.
Þingvallavatn, or Lake Þingvellir.
Öxarárfoss waterfall (which is redundant; "foss" means "waterfall") at Þingvellir.
The cracks in the Earth lead into the lake, and people scuba dive in there.
We didn't scuba dive ... we just looked.
Hello, sleet. This was the day we saw almost every type of weather.
This consecrated pool at Laugarvatn is flanked by stones known as "body stones," and it plays a part in one of Iceland's sagas.
I didn't notice this chimney-like formation until our second day in Laugarvatn, in a sort of, "Has that lump always been there? Do I have the same one on the other side?" kind of way.
Vatnsleysufoss, with a turtle rock and a fish ladder. There was also a noodle shop, but it was closed for the season.
Another view of Vatnsleysufoss.
The river leading away from Vatnsleysufoss
I think this is the lake at Laugarvatn.
A hotel concierge gave us instructions on how to find a waterfall known as Bruarfoss. We didn't succeed in our first try, and later learned that some of the locals didn't like hikers driving through their neighborhood. So, the next day, we followed the river up to it instead.
These plants reminded me of snowflakes.
One of the falls on the way to Bruarfoss.
There were three (or four, depending on exactly what you count as a waterfall) waterfalls on the way to Bruarfoss.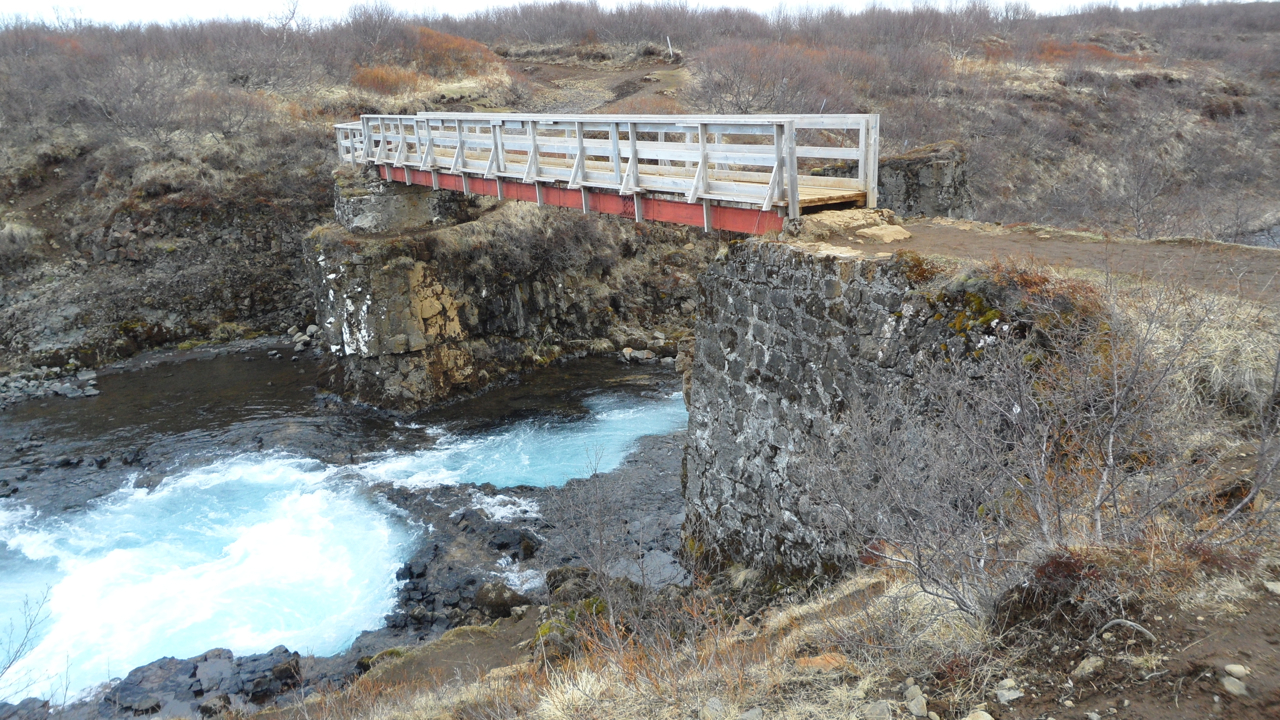 The stone foundation here is what's left of the bridge that Bruarfoss was apparently named for.
Headed back down from Bruarfoss.
We made a quick trip back to Gulfoss, and the sun made a rainbow!
Kerið, a volcanic crater lake.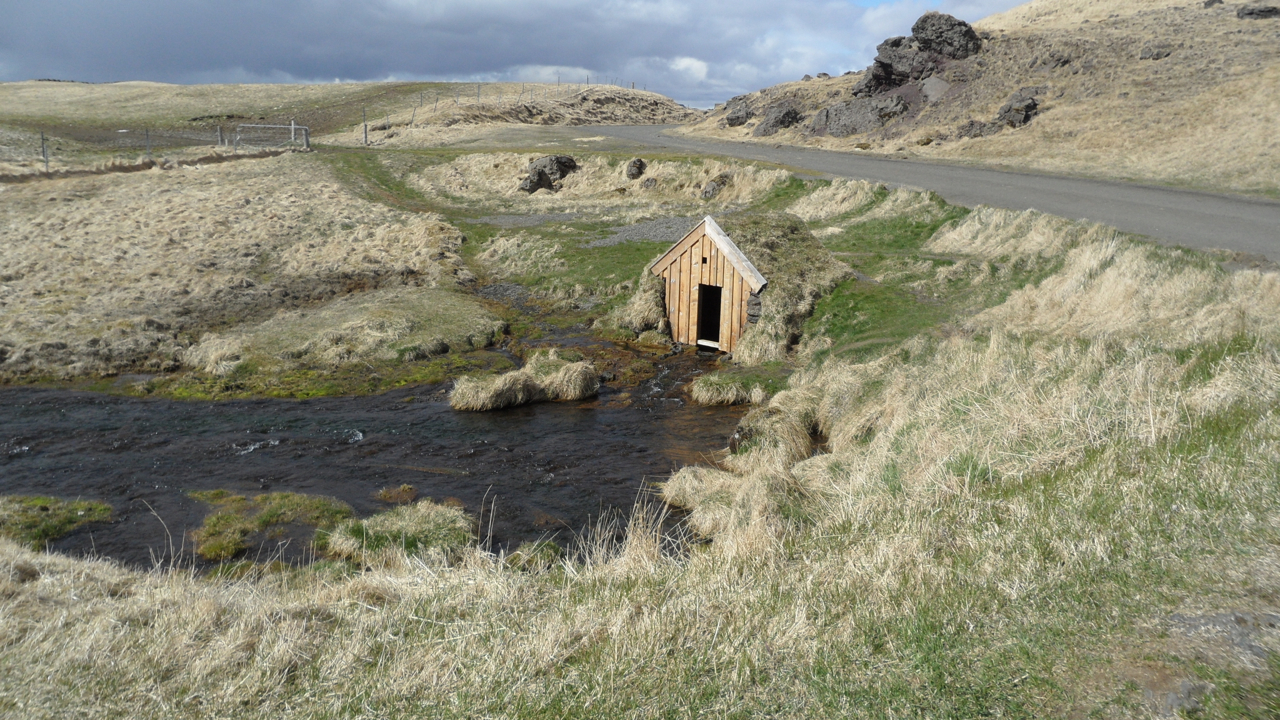 A little outbuilding visible from Keldur, a collection of historic sod buildings.
The church at Keldur. It seems like every church we saw in rural Iceland had this basic design.
The sod buildings at Keldur.
Crumbling sod buildings outside the fenced Keldur site.
Another view from Keldur.
Seljalandsfoss. It's windy.
Another teeny waterfall near Slejalandsfoss.
There were a lot of cliff-dwelling birds, none of whom show up in this picture.
You can see this rainbow, though.
DOUBLE rainbow. At points, you could really, clearly see how a rainbow is a circle, but not in a good place to get a picture of it.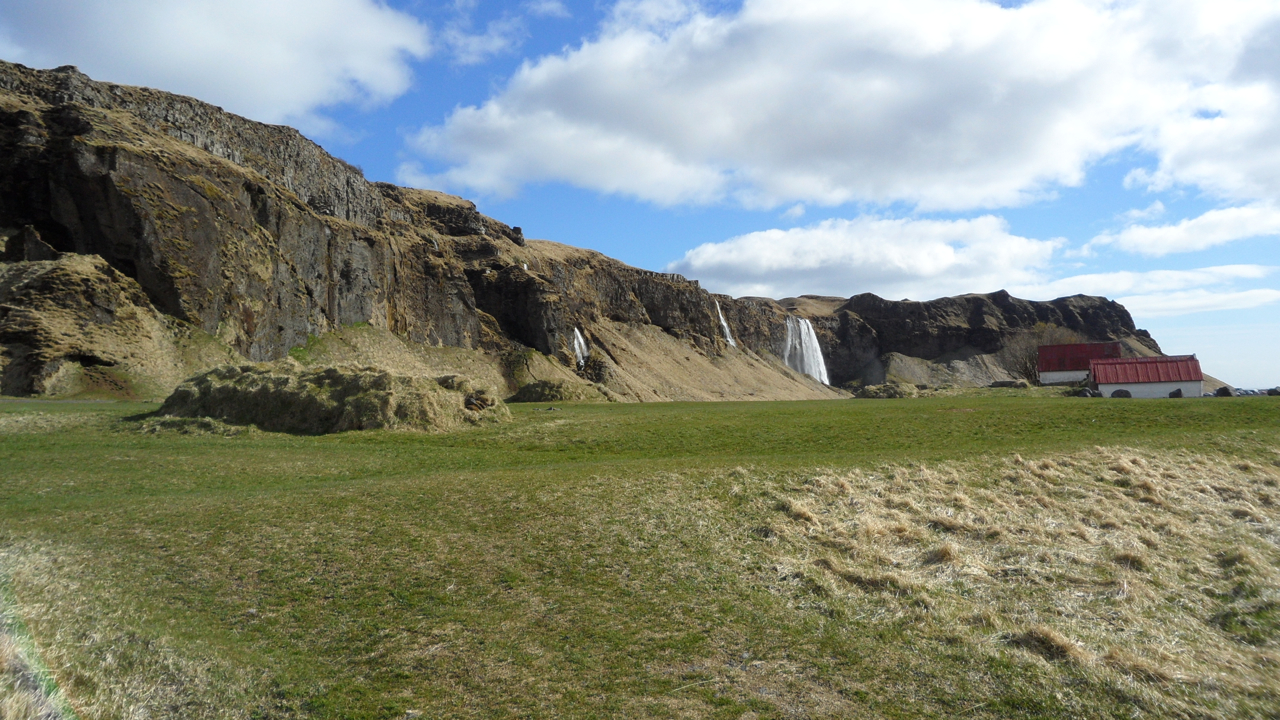 The view back at Seljalandsfoss.
From here, we drove toward Thórsmörk. We knew we probably couldn't get all the way there, even though we had a four-wheel-drive vehicle. We mutually agreed to turn around if we had to cross water. Here's where we turned around.
After a short we watched on the plane home, I think this is a flood plain created during the eruption of Eyjafjallajökull in 2010. At a different season of the year, THIS would have been where we turned around.
The next day we took a ferry to Vestmannaeyjar. We got to the ferry terminal really early in part becuase i thought the ferry terminal was in a little settlement. It's not. The road goes nothing nothing nothing nothing ferry terminal.
More of the ocean somewhere in the vicinity of Vestmannaeyjar ... or else my pictures got out of order.
One of the coolest things about Iceland is how often you can see ocean and mountains at the same time.
This is definitely a view from outside the ferry terminal to go to Vestmannaeyjar (AKA Westman Islands).
Another view of Stjórnarfoss (I think).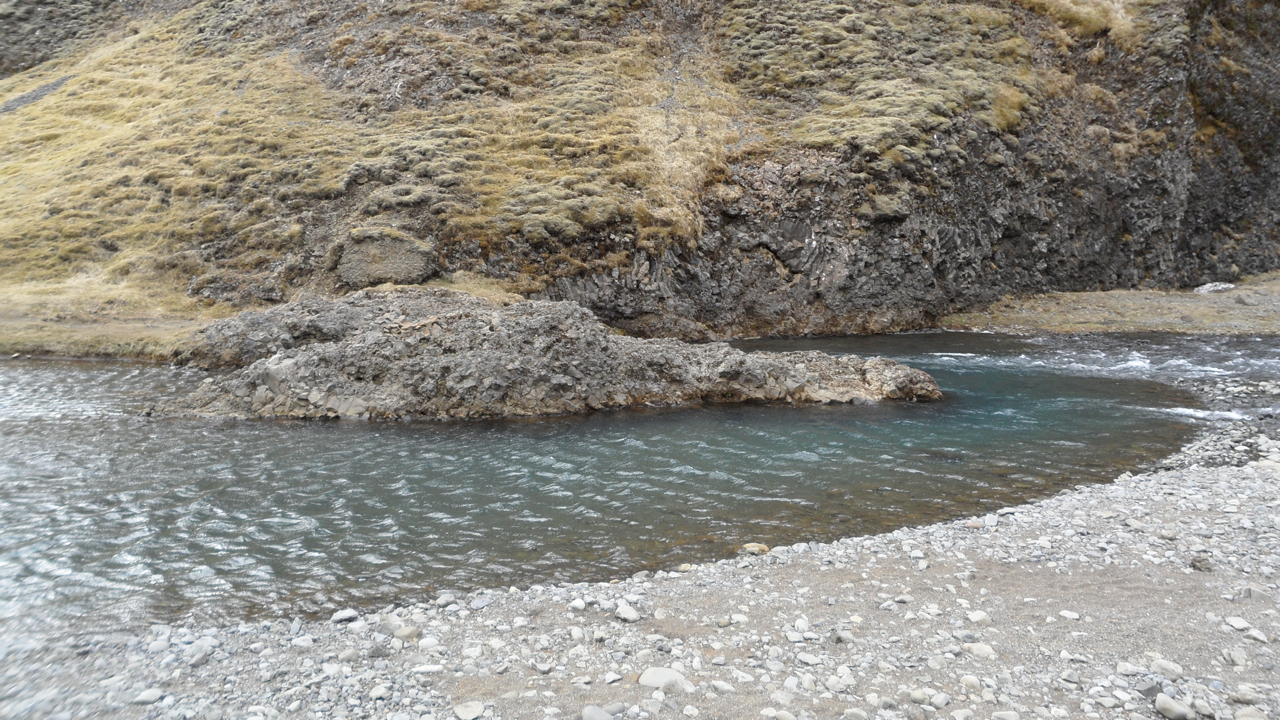 The wind was blowing so hard that it looked like the water was flowing back on itself.
 
The river at the bottom of that ravine.
Tiny flowers growing on a cliff wall at Fjaðrárgljúfur,
Last full day in Iceland. This is the end of a ravine called Fjaðrárgljúfur
OK hold up. Is this real life?
 
We saw some places in Iceland where cairns were prohibited. Here, they were not only allowed but encouraged.
According to tradition, a farm was destroyed by the volcano Katla. On their first time at the site, visitors are to leave a stone for luck.
We added stones to this cairn.
Next: The black sand beach.
We had a list of formations and sites to see along the black sand beach. This, I think, is Reynisdrangur
Looking back toward the basalt formations.
We've moved on to Dyrhólaey and its bird sanctuary.
We saw lots more cliff-dwelling birds, but no puffins.
The black sand beach of Reynisfjara from above.
This makes my heart hurt.
The distinctive formation at Dyrhólaey
We've moved on to Sólheimajökull glacier. The road has been improved since our guidebooks were updated. We expected 4km of ruts, but it was smooth the whole way.
The glacier is a very easy walk from a cafe, where we had minestrone for lunch. (The cafe also had some very disappointing posters of the sheep, cow, horse, etc., breeds of Iceland. "Breeds" on the posters really meant "colors.")
Skógar, a historical village and cultural museum. This time, we didn't have time to stop there. Maybe next time.
More to Come!
We'll be posting photos the honeymoon soon!